Guest Artists, Performances & Events
Ryan Winkler is back "home" for a moment before leaving to join the cast of Mary Poppins - come take class while you can! Register and pay for classes to hold your spot. https://dancestudio-pro.com/online/studio29dance
12:30pm 8yrs w/ experience - 18yrs

1:45 experienced dancers 12yrs+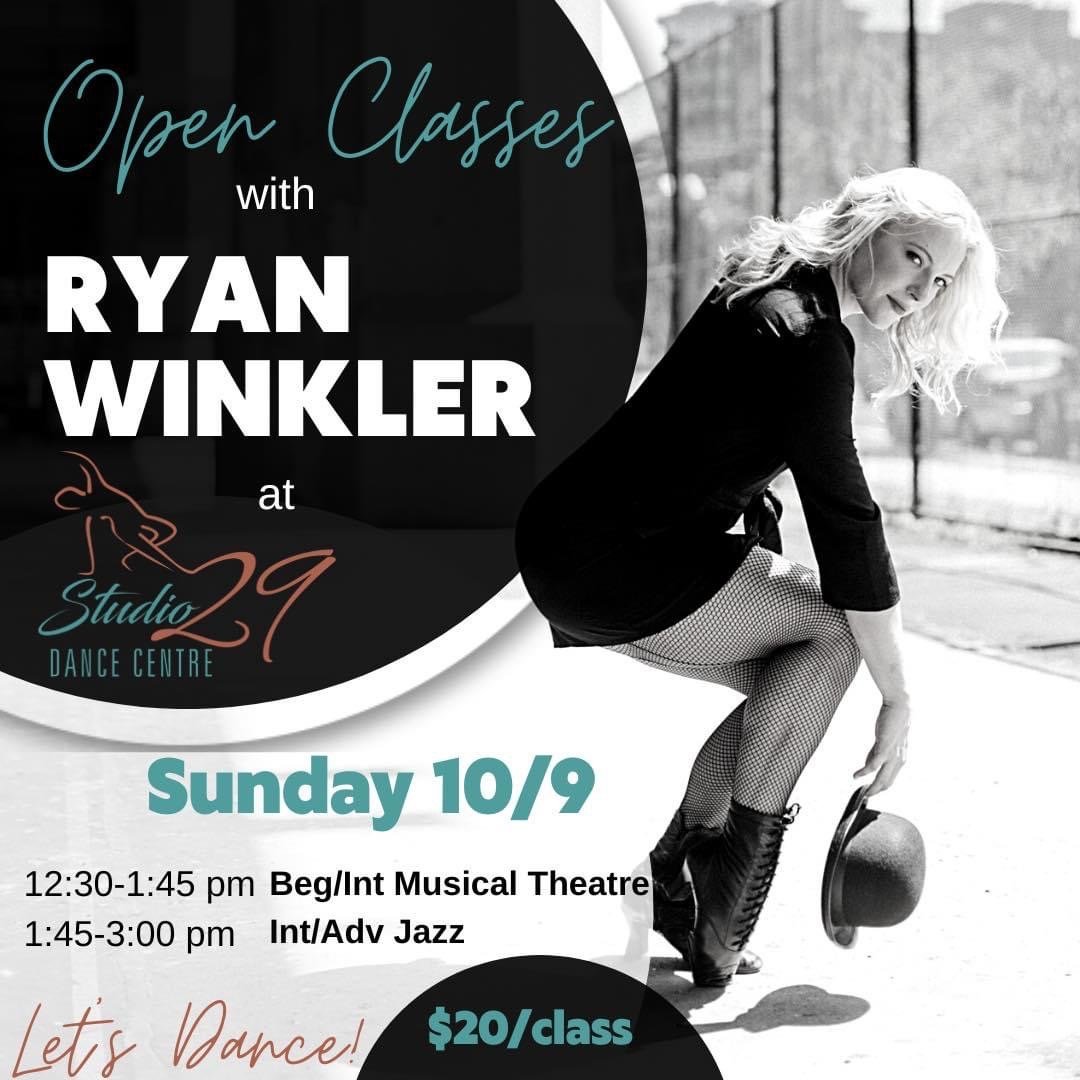 Our Company Dancers perform in their own show each summer which has been outdoors under the stars for the past 14 years. Our 2022 show was Solos & Sojourn / ICONIC performed June 2 after sunset in Lampasas, TX.
Keep your ear to the ground for our upcoming show announcements.

FREE EVENT!
2022 auditions moved to Saturday, 9/17! Our 2022 production will be Friday 12/2 - Sunday 12/4 with two casts and four shows.
Audition schedule posting here soon. They are $5 per role you try out for. Description of roles will be emailed to all Studio 29 dance families by Monday 9/12. Digital audition forms will be available Wednesday 9/14. Cast lists posted below. Costume rental fees of $10/costume will be added to each dancer's tuition account through the parent portal by Monday 9/26.
SAT 9/24
9:00-10:00 Angels
10:00-11:00 Toy Soldiers
11:00-1:00 ALL Lads & Ladies (which always includes Clara & Fritz)
SAT 10/1
No Rehearsal Today
SAT 10/8
9:00-10:00 Angels
10:00-10:30 Mice Cast A
10:30-11:00 Mice Cast B
11:20-1:40 ALL Lads & Ladies
1:50-2:15 Rat King, Nutcracker
2:15-3:15 Toy Soldiers & RK/NC
ACT ONE
Clara - Nevaeh Downey
The Nutcracker - Avery Williams
Fritz - Ellen Reid
Party Ladies - Rayne Hill, Mallory Hughes, Camille Sladek, and Favorite Cousin Kalai Brown
Party Lads - Mia Clinton, Kennedy Hardison, Rylie Reese, Claire Thompson
Magic Harlequin Doll - Lily Rygaard
Magic Ballerina Doll - Jacqueline Jenkins
Magic Soldier Doll - Kewe Sanford
Rat King - Claire Thompson
Little Mice CAST A
Carry off Rat King - Ainsley Brummett, Axy Love, Gracelynn Yow
w/ Clock Mice Joy Jenkins (NC Carrier) & Gemma Heulitt,
and Soldier Mice Elsie Baldwin & Karizma Nobles
Little Mice CAST B
Carry off Rat King - Zoe Birdwell, Hunter Floyd, Gracecyn Parker
w/ Clock Mice Blayke Carrion (NC Carrier) & Aspen Miller
and Soldier Mice Rorey Harrison & Robyn Brandenburg
Toy Soldiers
Mia Clinton, Marley Gallardo, Laynee Golightly, Mallory Hughes, Elizabeth Pullin, Rylie Reese
ACT TWO (TBA)
Angels
Taj Castillo, Mia Clinton, Piper Clinton, Camille Fitzsimmons, Marley Gallardo, Laynee Golightly, Samantha Hernandez, Raigan Hardison, Adalynn Leidy, Elizabeth Pullin
Spanish Chocolate - Paisley Duarte, Jacqueline Jenkins, Ellen Reid
Arabian Coffee - Lily Rygaard w/ Brady as partner
Chinese Tea - Kalai Brown, Kamilya Nobles
Russian Trepak - Paisley Duarte, Jacqueline Jenkins, Ellen Reid
Marzipan Flutes - Halli Crow, Gracelyn Everett, Kewe Sanford
Candy Canes TBA - Candy Queen Annmarie Bailey
Sugarplum - Miss Madison Rygaard
Waltz of the Flowers TBA - (LARGE CAST) Dew Drop Kewe Sanford
LAST YEAR'S PRODUCTION INFORMATION --
The Story of The Nutcracker 2021

BHS Auditorium
Fri 12/3 6:00
Sat 12/4 3:00 & 7:30
Sun 12/5 3:00
$12 adults

$7 2yrs & older, students/teachers
Purchase Tickets here next year!
**Cast A matinees
**Cast B evening shows
Recital is assumed but not required so let us know if you aren't participating. Otherwise - Participation fee $40/dancer due Jan 9, 2022. Costume purchases due January 15. Recital will be performed in two shows in the afternoon/evening of Sunday, May 7, at the Georgetown Palace Theatre. Tickets will be $10.
PREVIOUS RECITALS AT GEORGETOWN PALACE THEATRE
"Classic"
May 2022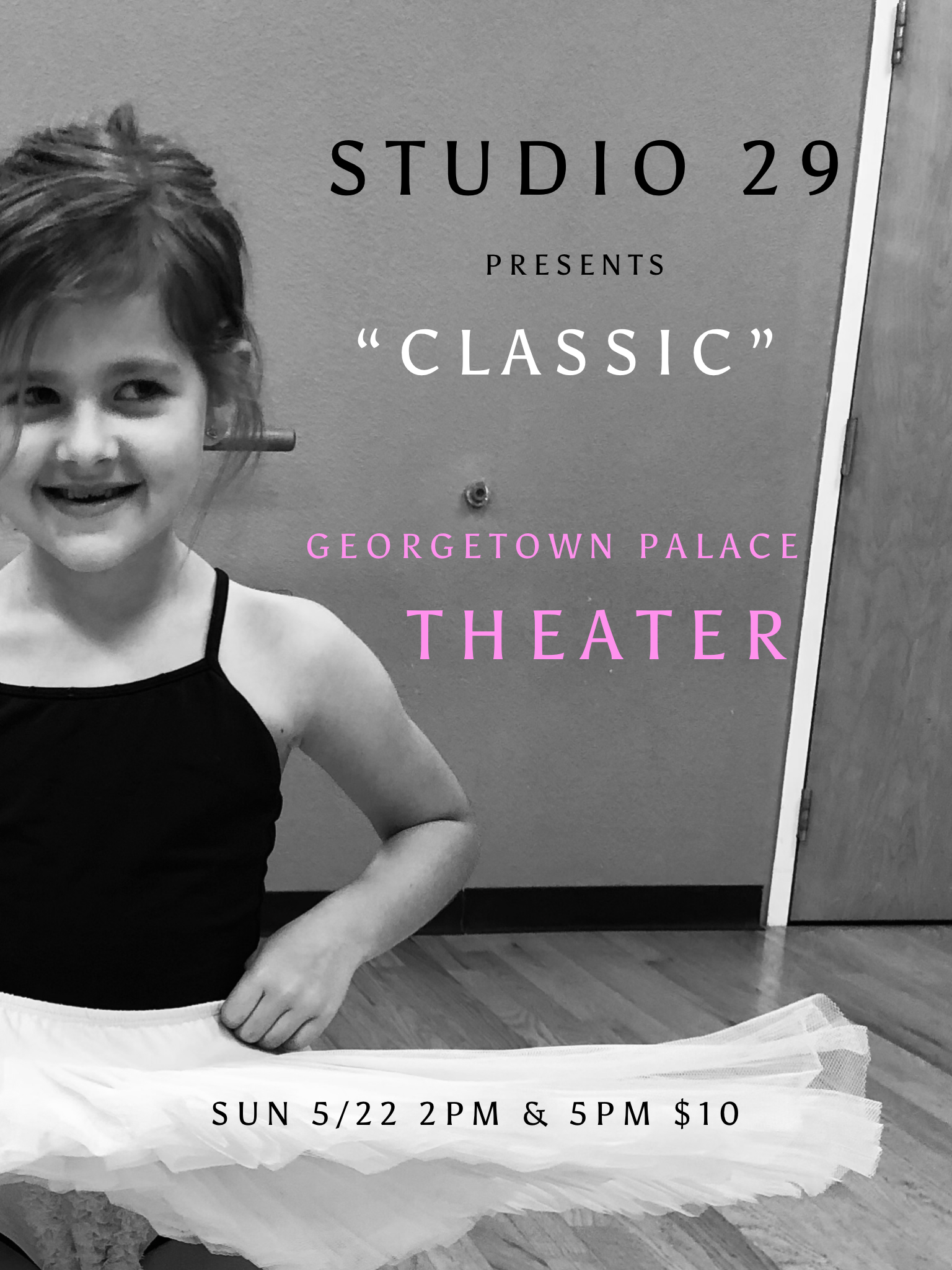 "Collective Exhale"
May 2021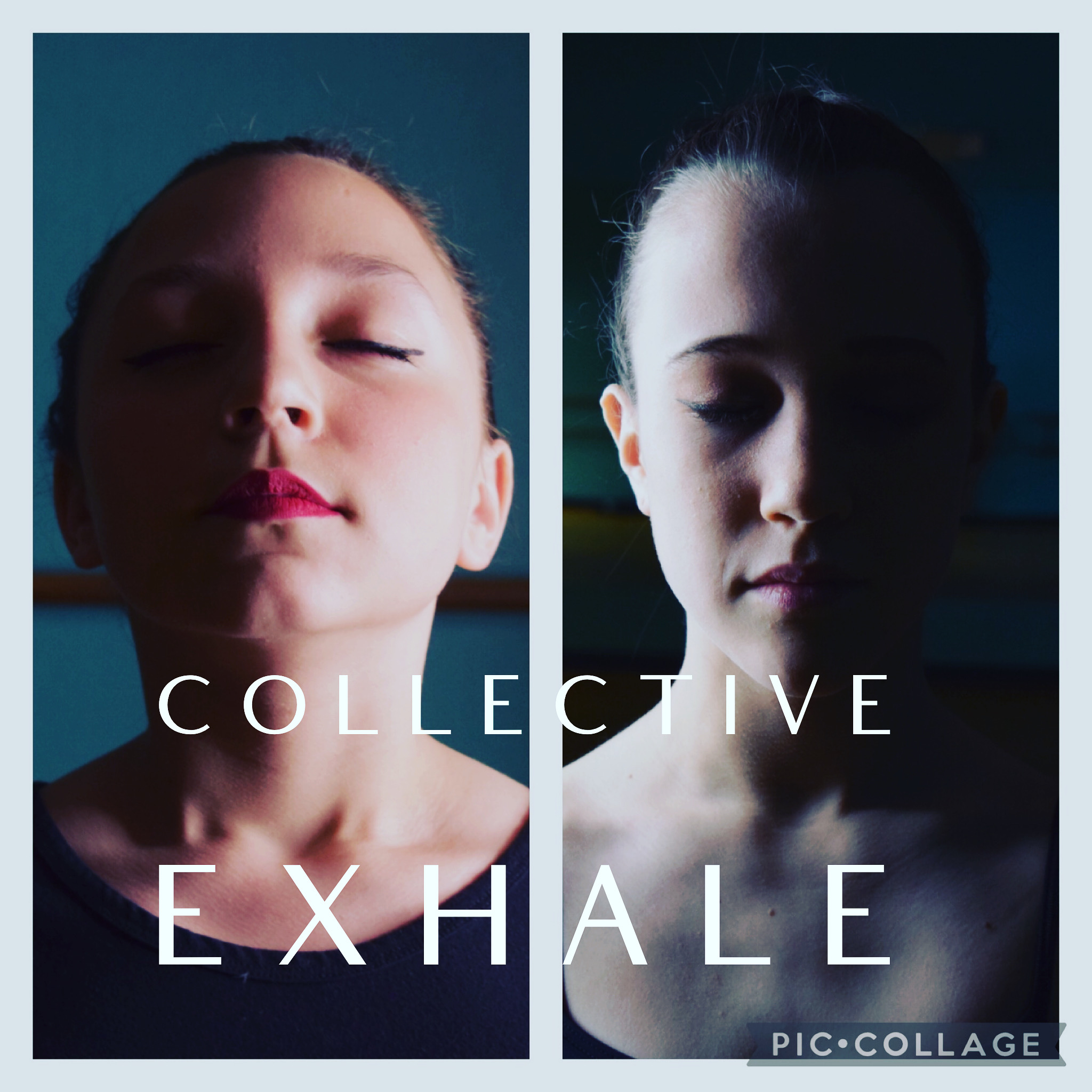 Starting again this fall 2021!
Leave your kiddos ages 5 to 12 with us one Saturday night each month for only $30 ($5 sibling discount).
From 5-9 pm we plan a party with dinner with a drink, music, dancing, and sometimes games and prizes, then turn our studio into a movie house with a film.
Extra dinner and concessions available for purchase at $1/item. Leave cash with our staff for your dancer, or have your dancer keep up with his or her own money. All profit goes toward our Nutcracker production or Dance Tuition Scholarships.
PLEASE RSVP through email or at the studio if you know you'll come. Don't fret; tickets are also available at the door!
Bring all your friends – it'll be quite a time!
We had a wonderful time watching Labyrinth, eating pizza, dressing up, and playing games for prizes! Thanks for coming!
Karaoke with costumes, popcorn and treats in addition to our hot cocoa bar! Movie TBA!


Sunday date 11/06/22 from 1:30-3:30p.m.
Bring your moms, grandmas, and friends to our 2-hour event each fall. Enjoy teas and all kinds of eats and treats, take photos with dancers who are in official Nutcracker costumes, and FINAL CHANCE to see some of the actual performances! Email to RSVP, please, so we can save you a space.
$25 ages 2-12, $5 for accompanying moms/grandmas/older siblings/etc.

Celebrate with us! We are happy to host a birthday or other party complete with dancing and activities of your choice, cupcakes and drinks, all utensils and décor. We setup and cleanup, digital invitations included. 2-hours for $195, or inquire about studio rentals. Email for more info and scheduling.


Do you have any questions? Perhaps you would like to consult our staff? Please do not hesitate to reach out to us via email for more details. We hope to hear from you soon!