Guest Artists & Performances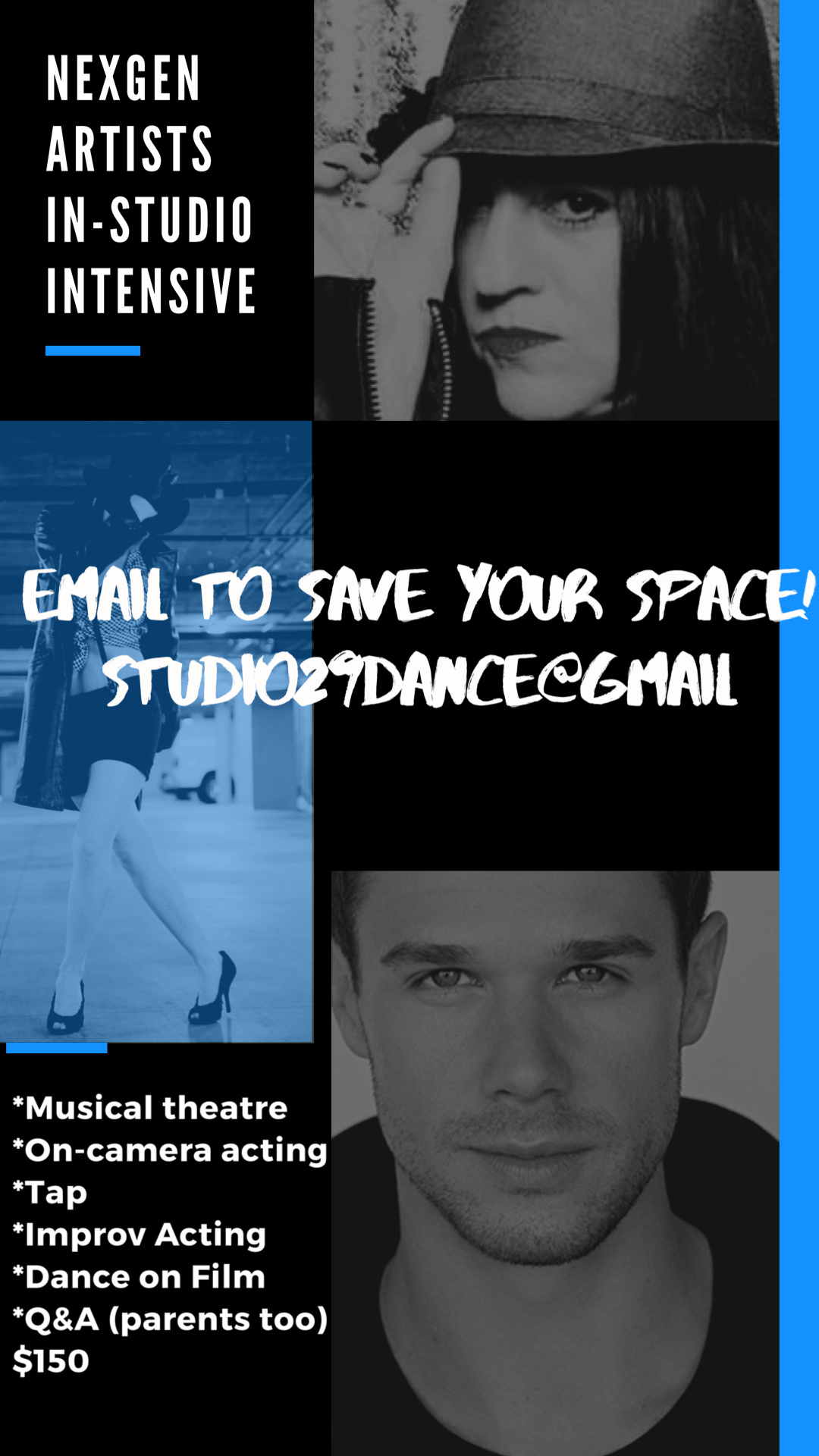 12/5/20 Sat 7:30 p.m.
12/6/20 Sun 2:30 p.m.
Our largest, most formal event of the year! You are invited to experience this Hill Country Christmas Tradition with us.

Please join us at Burnet High School PAC! Tickets are sold at Studio 29 closer to the show, or at the door. All tickets are general admission $12 adults, $7 children 2-12 years/students/teacher.
Time and Date TBD as Shelter in Place releases
$8.00 FREE

We alternate annual Formal (costumes purchased through studio and theme followed) with Informal spring recitals. We will host an informal event this year, HOWEVER, it will be extra special!


June 18 and/or 19 at 9:00 p.m. WM Brook Park Amphitheater, Lampasas, TX
An annual FREE evening of dance under the stars performed by our
Company Dancers
.
Bring a blanket or lawn chair if you'd like, and come experience what we've been working on all year.

This year we play with the idea of irony in performance and movement.

Leave your kiddos ages 5 to 12 with us one Saturday night each month for only $25 ($5 sibling discount).
From 5-9 pm we plan a party with dinner with a drink, offer music, dancing, and games for prizes, then sometimes turn our studio into a movie house with a film.
Extra dinner and concessions available for purchase at $1/item. Leave cash with our staff for your dancer, or have your dancer keep up with his or her own money. All profit goes toward our Nutcracker production or Dance Tuition Scholarships.
PLEASE RSVP through email or at the studio if you know you'll come. Don't fret; tickets are also available at the door!
Bring all your friends – it'll be quite a time!
Come as a Shark or Jet, I mean Rodent or Surfer, and learn choreography from the Teen Beach Movie series! Beach Party vibes for dinner, and tons of fun with friends! We fell in love with the movie at camp this summer, and want to explore it with everyone else.
Crafts, special treats and eats in addition to our pizza party after Nutcracker rehearsal! Revving up for nutcracker with Misty Copeland and so much super-dramatic ballet!



Sunday date 12/15 from 2:00-4:00 p.m.
Bring your moms, grandmas, and friends to our 2-hour event each fall. Enjoy teas and all kinds of eats and treats, take photos with dancers who are in official Nutcracker costumes, and FINAL CHANCE to see some of the actual performances! Email to RSVP please, or come as you are.
$25 ages 2-12, $5 for accompanying moms/grandmas/older siblings/etc.

Celebrate with us! We are happy to host a birthday or other party complete with dancing and activities of your choice, cupcakes and drinks, all utensils and décor. We setup and cleanup, invitations included if interested. 2-hours for $175, or inquire about studio rentals. Call or email for more info and scheduling.


Do you have any questions? Perhaps you would like to consult our staff? Please do not hesitate to reach out to us via phone or email for more details. We hope to hear from you soon!